Aside from being a city that has amazing food, and bars, Chicago is among the largest cities in the U.S. Famed for its bold architecture, it offers tons of advantages to emerging freelancers.  Chicago's flourishing technology scene has promoted billions of dollars over the past few years. Chicago-based software startup Uptake overtook Uber for the title of the hottest startup of 2015, and it has grown in technology ever since then. The Windy City has become an international hub of innovation.
To encourage and accommodate this high rise of freelancers, entrepreneurs, and startup employees, a lot of coworking spaces have popped up across Chicago. If you're in Chicago, you may want to consider one of these Coworking Spaces in Chicago. Get a whole new and awesome experience of technology and work experience.
Below is a list of coworking space in Chicago:
Coalition Impact offers customized flexible office space, desks, private offices, coworking, virtual offices, enterprise suites, and meeting rooms with expanded lounge areas where members can have different ideas and innovative options to help them launch groundbreaking ideas and develop successful businesses and as well engage business communities. Coalition Space strives to ensure a welcoming and inspiring environment for you! Located two blocks west of the Chicago stop on the Brown Line, this space provides members with access to rich social opportunities as soon as they step out of the office, like summer concerts and pop-up cafes.
Location: 405 West Superior Street Chicago, IL 60654
Price: $100+/month hot desk; $300/month dedicated desk
Perks: WiFi, coffee, kitchenette, phone booths, outdoor deck, bike storage, dedicated event space
Hours: 9 AM – 5 PM Monday – Friday, closed Saturday – Sunday
Make Offices is affordable, worry-free workspaces, a vibrant community of innovators, and networking opportunities to make connections and meet new friends with like mind. This coworking space upholds a professional, authentic environment, and has convenient 24-hour access which means there is no need to wait when inspiration strikes. It provides everything you need to grow your business.
Location: 350 N Orleans St #9000n, Chicago, IL 60654
Price: $700 +/month private office; $300/ month open desk; $35/day day pass
Perks: Conference rooms, game room, mail collection, fast WiFi, monthly networking events, premium coffee and tea, networking events, massage chairs, craft beer on tap
Hours: 24/7
CoGen provides a bigger workspace and better amenities with fully furnished space to help members maximize their professional opportunities. A number of membership levels are available to provide flexibility for busy schedules and help you find the perfect option that suits your needs. The convenient South Loop location is one block from the Roosevelt 'L' stop with access to red, green and orange line trains. 
Amenities & Services List
High-Speed WiFi
Printer
24/7 Access
Free Coffee / Tea
Kitchen
Location: 1132 S Wabash Ave. #200 Chicago, IL 60605
Price: $99/month flex 5; $299/month full-time
Perks: high-speed internet, wireless printing and scanning, complimentary coffee and beverages, conference rooms, standing desks, biweekly happy hours, rooftop access
Hours: 24/7
The Chicago Connectory is a community of entrepreneurs, Internet of things startups, corporate innovators, and creative minds. The Chicago Connectory opened in 2017 with the express goal of creating a hub for the Internet of Things community to collaborate, and develop – together we're driving Internet of things innovation for Chicago, the Midwest, and beyond. It now functions as an incubator for startups of all types. This Connectory space is focused on industry 4.0, mobility, smart city, and connected construction.
Location: 222 W Merchandise Mart Plaza Suite 570, Chicago IL 60654
Price: $300/month open seating
Perks: high-speed WiFi, mentor network, IoT workshops and programming, conference rooms, kitchen, free coffee
Hours: 24/7
A better place for self-employed creatives, freelancers, and independent professionals. Workvault features high loft ceilings and beautiful lighting within a rich work environment. Located on the world-famous Michigan Avenue. Private meeting rooms, open co-working spaces, and chic venue space, it provides members with the chance to truly reach all of their business goals.
Amenities
Coffee & tea
Unlimited coffee and assorted tea. You're welcome to grab a cup in the kitchen and make yourself a cup of coffee.
Kitchen & microwave
You may store your food in the refrigerator but don't forget your food when leaving!
Printing
Printing is available in black and white. Please ask the community manager for setup instructions and rates.
Snacks
Feeling hungry? Snacks are available for purchase in the kitchen
Location: 1420 South Michigan Avenue Chicago, IL, 60605
Price: $500/month dedicated desk; $1,000+/month private office
Perks: Wireless internet, food and beverage amenities, event space discounts, conference room access, private filing cabinets
Hours: 24/7
The Logan Square Office Suites provide an upscale, convenient, and affordable alternative to traditional city office space in Chicago IL. Located in the heart of Chicago's vibrant and historic Logan Square community, a neighborhood that is best known for its park-like boulevards, with trendy restaurants, and shops. Logan Square offers one of the most distraction-free work environments in Chicago. These luxury offices are just three miles northwest of Chicago's Loop, an added benefit for tenants and their clients needing convenient access to the downtown business district.
Amenities:
Our office suites are newly built-in 2017.
Fast Internet/WIFI connections. 
Unlimited copy and printing.
Comfortable and inviting executive conference room.
Fully-equipped kitchen.
Free Street Parking.
Location: 2864 N Milwaukee Ave, Chicago, IL 60618
Price: $325/month dedicated desk
Perks: Private phone booths, napping areas, bike storage, showers, scanning services, kitchenette, reservable event space
Hours: 24/7
WeWork provides dynamic environments for creativity and connections, and this location at River North puts members in the heart of Chicago's professional scene. Space is surrounded by luxe shops and Chicago's foremost art galleries, so as soon as you step out after a hard day's work, you'll have the world at your fingertips.
Amenities
High-speed Wi-Fi – Hook yourself up to hard-wired Ethernet or secure Wi-Fi, including IT support and guest log-in functionality.
Meeting rooms – We've decreased capacity, removed chairs, and identified 'safe to occupy' seats where applicable. New meeting room capacities are reflected on the member app. Signage at the door and on the table reiterates how to sit safely in the room.
Onsite staff – With years of operational expertise and service-focused backgrounds, our workplace team is here during business hours to provide everything you need to keep your office running smoothly. To ensure the safety of our spaces, WeWork Community team employees and daily vendors will be temperature checked before the start of their shift, and wear face coverings in our spaces, and while interacting with members.
Unique common areas – To meet new professional distance protocols, we've de-densified common spaces by removing seats or identifying 'safe to occupy' seats in our lounges and pantries. Both wipe dispensers and hand sanitizer dispensers will be conveniently located throughout common spaces for all members.
Phone booths – Built as quiet spaces for quick phone calls, we're making our phone booths safer and more comfortable. Phone booths will be cleaned and disinfected every 2 hours, and doors will be left open for easy air circulation. Complimentary hands-free sanitizer and disinfectant wipe dispensers will be provided by each phone booth for members to use.
Stocked kitchens – Single-use items will be readily available as alternatives to the standard, reusable items. Cutlery, cups, condiments, and dairy will be handled and replenished by staff wearing both gloves and face coverings. Complimentary disposable gloves, hands-free sanitizer, and disinfectant wipe dispensers will be provided for members. High touch surfaces will also be cleaned every 2 hours.
Business-class printers
Every floor has its own space stocked with a business-class printer, office supplies, and paper shredder.
Professional & social events – Member-sponsored events are permitted where local law allows and in accordance with capacity measures. Overall, we are continuing to host virtual events to maintain connections across our community.
Location: 111 W Illinois St Chicago IL 60654
Price: $450/month dedicated desk; $750+/month private office
Perks: Panels, social events, high-speed internet, soundproof phone booths, printing services, micro-roasted coffee, fruit-infused water, wellness room
Hours: 9 AM – 6 PM Monday – Friday, closed Saturday – Sunday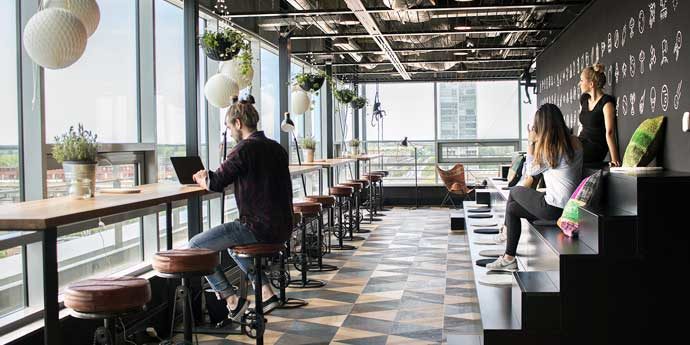 Rent24 offers you the opportunity to work on your own terms and spend your most productive days with people with like-mind, it also offers the freedom to flourish in a collaborative working environment. It is a type of shared office space created to meet the needs of the new generation of talents, freelancers, entrepreneurs, and startups, it promotes creativity, innovative thinking, and the creation of community across industry borders.
Membership
Flex Desk – Choose a flexible desk in your preferred coworking space. You will get access to a variety of premium amenities with a guaranteed workspace to plug in your laptop.
Fixed Desk – Book a fixed desk in one of our coworking spaces around the world. Experience our best in class infrastructure with your own dedicated workspace at the center.
Private Office – Rent private office space in your favored location. Start working instantly and accommodate teams of all sizes. Our standard offices are perfect for transitional business stages.
Office Suite – Find your place to succeed in the digital era. Whether you need a tailored satellite office or a new headquarters, we create innovative synergies between people and space.
Membership Benefits
Imagine a workspace that perfectly matches your individual profile, no matter where you are located. Find it in our coworking locations spread across multiple continents. Discover an environment designed to meet your needs and benefit from upscale services.
Global Community – Join 35.000 talents, creatives, influencers & pioneers.
Premium Amenities – Start instantly at your workspace & be productive from day one.
Networking Opportunities – Establish new contacts & grow your business network.
Members Area – Login to your member's area & tap into the entire community.
Budget Transparency – Expand at your own speed & get full transparency of your monthly costs.

Additional Services – Support the growth of your company with over 30 additional services.

Events Calendar – Benefit from more than 500 unique events yearly.

Location Convenience – All spaces are close to public transport, lunch spots & shopping.

On-Site Staff – Our on-site staff takes care of the well-being of our members.

Location: 444 N Wabash Ave #500, Chicago, IL 60611
Price: $50/month membership, $250/month private office
Perks: 10% member discount for non-profit organizations, conference rooms, movie rooms, networking events, Grind & Flow gym, WiFi, coffee
Hours: 9 AM – 6 PM Monday – Friday, closed Saturday – Sunday
Conclusion
Having properly gone through these coworking spaces in Chicago, you must have genuinely discovered some well-equipped, sophisticated, comfortable, and conveniently-located Chicago space or home for your work life, and these places will for sure improve your working experience
If there are any of the spaces in this post that suit your comfort, kindly click on the name of the space to be redirected to the place.
We are sorry that this post was not useful for you!
Let us improve this post!
Tell us how we can improve this post?